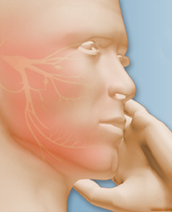 Trigeminal Neuralgia
Trigeminal neuralgia (TN), also called tic douloureux, is a chronic pain condition that affects the trigeminal or 5th cranial nerve, one of the most widely distributed nerves in the head. TN is a form of neuropathic pain (pain associated with nerve injury or nerve lesion.) The typical or "classic" form of the disorder (called "Type 1" or TN1) causes extreme, sporadic, sudden burning or shock-like facial pain that lasts anywhere from a few seconds to as long as two minutes per episode. These attacks can occur in quick succession, in volleys lasting as long as two hours. The atypical form of the disorder (called "Type 2" or TN2), is characterized by constant aching, burning, stabbing pain of somewhat lower intensity than Type 1. Both forms of pain may occur in the same person, sometimes at the same time. The intensity of pain can be physically and mentally incapacitating.
What causes trigeminal neuralgia?
TN is associated with a variety of conditions. TN can be caused by a blood vessel pressing on the trigeminal nerve as it exits the brain stem. This compression causes the wearing away or damage to the protective coating around the nerve (the myelin sheath). TN symptoms can also occur in people with multiple sclerosis, a disease that causes deterioration of the trigeminal nerve's myelin sheath. Rarely, symptoms of TN may be caused by nerve compression from a tumor, or a tangle of arteries and veins called an arteriovenous malformation. Injury to the trigeminal nerve (perhaps the result of sinus surgery, oral surgery, stroke, or facial trauma) may also produce neuropathic facial pain.
What are the symptoms of trigeminal neuralgia?
Pain varies, depending on the type of TN, and may range from sudden, severe, and stabbing to a more constant, aching, burning sensation. The intense flashes of pain can be triggered by vibration or contact with the cheek (such as when shaving, washing the face, or applying makeup), brushing teeth, eating, drinking, talking, or being exposed to the wind. The pain may affect a small area of the face or may spread. Bouts of pain rarely occur at night, when the affected individual is sleeping. TN is typified by attacks that stop for a period of time and then return, but the condition can be progressive. The attacks often worsen over time, with fewer and shorter pain-free periods before they recur. Eventually, the pain-free intervals disappear and medication to control the pain becomes less effective. The disorder is not fatal, but can be debilitating. Due to the intensity of the pain, some individuals may avoid daily activities or social contacts because they fear an impending attack.