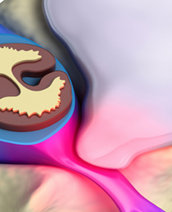 Pinched Nerve
A pinched nerve occurs when too much pressure is applied to a nerve by surrounding tissues such as bone spurs, disc herniation and ligaments. This pressure (compression) disrupts the nerves function causing pain, tingling, numbness or weakness in the affected area, and in many cases causing permanent damage if not addressed with the right pinched nerve treatment. A pinched nerve can occur anywhere in your body. When a patient has a symptomatic herniated disc, the disc itself is not painful, but rather the material that is leaking our of the inside of the disc is pinching or irritating a nearby nerve. This type of pathology produces pain called radicular pain (e.g., nerve root pain) leading to pain that may radiate to other parts of the body, such as from the low back down the leg or from the neck down the arm. Leg pain from a pinched nerve is usually described as sciatica.
SYMPTOMS
Examples of pinched nerves can include the symptoms:
Numbness or decreased sensation in the area supplied by the nerve.
Sharp or burning pain, which may radiate outward. When the pinched nerve comes from the spinal cord, coughing or sneezing may aggravate the pain.
Tingling, pins and needles sensations (paresthesia).
Muscle weakness or twitching in the affected area.
Frequent feeling that a foot or hand has fallen asleep.