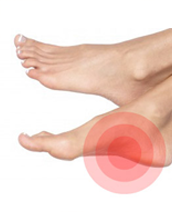 Foot Pain
Pain in the foot can be due to a problem in any part of the foot. Bones, ligaments, tendons, muscles, fascia, toenail beds, nerves, blood vessels, or skin can be the source of Foot pain.
Causes of Foot Pain
Heel Pain:
Plantar Fasciitis is the most common cause of heel or foot pain. Heel pain, worst in the morning when getting out of bed, is the most common symptom. Arch pain may also be present.
Treatment for plantar fasciitis includes:
Rest
Heel and foot Muscle Stretches
Over-the-counter pain relievers
Shoes with good arch support and a cushioned sole
Various other treatments for plantar fasciitis are available.
Heel Spurs are abnormal growths of bone on the bottom of the heel bone that may be caused by an abnormal gait, posture or walking, inappropriate shoes, or certain activities, like running. Spurs may cause foot pain while walking or standing. People with flat feet or high arches are more likely to have foot pain from heel spurs.
Treatment for heel spurs include:
Cutout heel pad
Custom-made insert (orthotic) worn in the shoe
Wearing shoes that fit well and have shock absorbing soles
Over-the-counter pain relievers
Rest